by Colly
I just passed the halfway point of my trip, and I realized some of you still might not know what I'm doing. I emailed some friends and asked if they had any questions about my trip. Here's what they asked. Thanks to everyone who asked these questions! You can ask me more questions if you want in the comment field.
Q: What is your favorite part about traveling the world?
A: Definitely seeing new places, because every place is different. For example, our first stop in New Zealand was Auckland (Auckland is a big city). After Auckland we went to Harris Hill in Nelson, which is in a small town with big fields, a huge bay, and lots of hills all around it. Both places were completely different but I still liked being in both of them.
Q: What is your least favorite part about traveling the world?
A: Besides getting homesick, the luggage. It's either we have too much and it's impossible to carry it around, or we don't have what we need and we're freezing or too hot.
Q: How much luggage do you travel with?
A: Well, we have 6 small carry-ons: 3 back packs, 1 computer bag, 1 shoulder bag, and 1 camera bag. We also have 5 main suitcases: 1 bag for each of us, and 1 huge black suitcase with all of our home schooling supplies. The suitcase with all of our supplies we call "the black tick." Everyday we talk about needing to clean it out, but instead it keeps growing and growing. It has stuff we never use but we don't want to throw away either. Right now the black tick is overflowing.
Q: What's your favorite place and why?
A: I have no idea; every place I go to I love. But, if I had to choose, I'd say Abel Tasman National Park. That's where I sea kayaked for three days, and if you want to read more about it you can at http://away-together.com/2010/01/07/kayak-adventure-around-abel-tasman-park/
Here's a movie that my mom made about our family and friends kayaking there: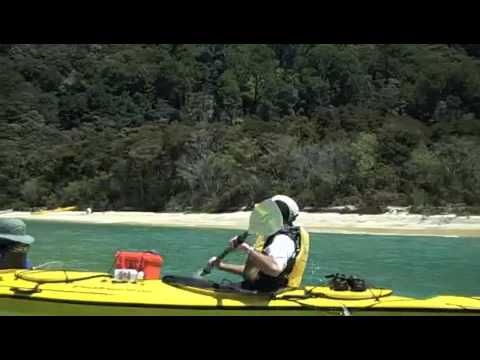 Q: How old do you have to be to go sea kayaking at Abel Tasman?
A: Truthfully, you have to be 14 years old to go sea kayaking for three days. I really have no clue how we convinced them to let us go.
Q: Where have you been so far on your trip?
A: This list is only the first five months!
Fallon, NV
Telluride, CO
Mesa Verde National Park and Durango, CO
Boulder CO
Grand Canyon South Rim
Sedona, AZ
Barstow, CA
Pacific Palisades, CA
Ojai, CA
Buenos Aires, Argentina
Colonia, Uruguay
Bariloche, Argentina
Villa La Angostura, Argentina
Mendoza, Argentina
Santiago, Chile
Auckland, NZ
Waitangi and Bay of Islands, NZ
Kerikeri, NZ
Rotorua and Bay of Plenty, NZ
Wellington, NZ
Nelson, NZ
Karamea and West Coast, NZ
Flock Hill on Arthur's Pass, NZ
Queenstown, NZ
I hope I'm not forgetting any!
Q: What do you miss from a regular school and from Piedmont?
A: I think the thing I miss most is the people, my friends, my teachers, my neighbors, anyone I know — my whole social life. I also really miss my house; it's really fun to travel, but it's also really hard to always be moving from house to house, hotel room to hotel room, or motel to motel. I also miss after school activities like drama, trapeze or gymnastics. But we do try to find things we can do wherever we are.
For example, in Boulder I did gymnastics, and you can read more about it at http://www.collyworld.com/2009/09/flipping-for-cats/
Q: Do you get homesick often?
A: Yes I do; I've been away from Piedmont for about five months now and I still get homesick.
Q: How did you feel when you heard you were going on this trip?
A: Well, I was really scared at first. This is what happened: At first my parents just thought of the idea of going away for a year. They didn't tell us at first, but every day it made more and more sense to them. When they did tell us I thought they were kidding — going away for a year? Why? I got really freaked out because I didn't want to. I was about to start 6th grade! But every time we talked about traveling for a year, we got used to the idea and even excited! So finally after all of the planning, our year-round trip happened.

Q: Do you feel like it's going to be hard to readjust from such a flexible schedule?
A: Yes, definitely.
Q: Are you having fun?
A: All the time. Like I said, I do get homesick, but I'm still having fun. I get to do so many fun and amazing things that I would never get to try if I didn't go on this trip. For example, zorbing or petting eels or going to WOW, and you can read more about it at http://www.collyworld.com/2010/01/new-adventures-in-new-zealand/. 
Q: Where are you?
A: Right now I'm staying with some family friends in Queenstown, New Zealand.
Q: How is Queenstown different from the city of Piedmont?
A: It's really different because it has a giant glacier lake with mountains and glaciers all around it. There are sheep everywhere!
Q: How has your travel been so far?
A: Well we just celebrated our half waypoint on our trip and so far everything has gone great. No real problems have happened like losing luggage, getting really sick, or anything like that.
Q: What foreign languages have you heard people speak?
A: I have heard Dutch, Chinese, Japanese, Spanish, German, and Maori.
Q: Is it hard getting used to sleeping in a different place frequently?
A: Not for me, I can sleep at any time, anywhere, forever.
Q: Now much do you home school (hours per day)?
A: We don't really keep track of the hours because we are learning all the time. We're going to visitor centers, seeing and learning about monuments, going to national parks, and reading nonstop. But, when we are doing "schooling schooling" (math, writing, science), we try to do an average of three hours a day. I know it might sound short, but we home school on weekends and vacations too.
Q: Have you gotten carsick yet?
A: Definitely. We have to do really long drives sometimes, so I like to read in the car, but I end up getting really carsick and having to pull over. I haven't thrown up yet though.
Q: Is it annoying to have to be with your brother the whole time?
A: I thought I would be really sick of him by now, but instead I am really glad I have him to talk to or else I would be soooooo lonely and bored!
Q: Is it weird talking to people in other languages or accents?
A: It's okay in English-speaking countries, but it's a little harder in others. All you really have to know is please, thank you, etc. I know a little bit of Spanish and I am learning Italian too. Good bye! Adios! Arrivederci!