by Colly
First of all, I would like to apologize for not writing a blog post in so long. So much has happened and I can't keep track of all of it! Plus, we were on the road a lot. We recently left Nelson, New Zealand, where we lived for two weeks, and went on a three-day kayaking trip in the ocean next to Abel Tasman National Park! If you want to read more about our kayaking and camping, you can on our family blog. Here are some of the cool things that finished off my 2009:
ZORBING
What is Zorbing? What even is a Zorb? My mom calls it overpriced and overrated, but I call it fun.
zorbing |ˈzôrbi ng |
noun
a sport in which a participant is secured inside an inner capsule in a large, transparent ball that is then rolled along the ground or down hills.
ORIGIN 1990s: from zorb, the invented name for the ball, + -ing.
-New Oxford American Dictionary
Or, in other words, a big inflatable hamster ball that is rolling down a hill super fast. My brother and I went on the Zorb in Rotorua, on the North Island of New Zealand. But really we weren't tall enough for the Zorb so instead we did the Zorb-dro. The only difference is that you are not strapped in to the Zorb-dro — you're just bouncing around loose — and there's water in it too, so you are flopping around while getting soaked in freezing water. It was incredibly fun! My mom made a movie about it that you can watch.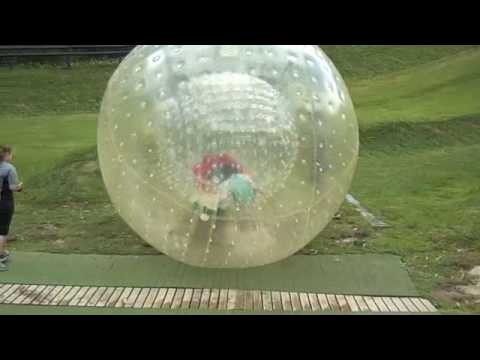 HARRIS HILL
My family and I stayed in a cottage on Harris Hill, an amazing farm on top of a hill on the South Island of New Zealand. You look outside and see the blue bay surrounded by green mountains and a clear blue sky. Kyle wrote a really good description of it and helped make a movie that you can check out on our family blog.
THE JESTER HOUSE CAFE
The Jester House Cafe is THE coolest and weirdest cafe I have ever been at in my life. We had heard numerous recommendations about The Jester House Cafe so we decided to drive there.
The hour drive wasn't that nice but IT WAS SO WORTH IT!!! When you first go in you see flowers and flowers, and then you walk across a bridge and under the bridge is a river. That is no ordinary river because IT'S FILLED WITH EELS! And, you can feed them too! After you cross the bridge you see a giant chess set and all around it is a beautiful garden with a forest on one side and a playground on the other and tables scattered all around.
My brother, Kyle, and I immediately ran to the eels. The eels are black and feel like a wet bar of soap, and they are really fun to pet. You can buy a little container filled with brain (that's what they eat — but I don't know what kind of brain it was; maybe it was pig brain) and two Popsicle sticks. How it works is you put your bait (the brain) on the end of the Popsicle stick and put it near an eel's mouth. My first time didn't go so well. The eels have really strong jaws so when they get hold of the stick they don't want to let go. So, I put my stick near a giant eel's mouth and without missing a beat, it clamped its jaw on the Popsicle stick. It soon turned into a game of tug-of-war. I didn't want to lose my stick so I pulled really hard, pulling the eel out of the water! I was still holding my stick, which now had a dangling eel at the end! I got really freaked out so I threw the Popsicle stick on the ground. The eel (still hanging on to the stick) slithered back into the water. I never got my stick back.
WOW: THE WORLD OF WEARABLE ART MUSEUM
The World Of Wearable Art Museum has the weirdest, most unusual, wackiest fashions I have ever seen. Some of the different categories the designers designed for are glow-in-the-dark, wooden, bizarre bras, tropical paradise, recyclable, and way more. I saw dresses with wooden skirts and tops, outfits with ear plugs all over them (the earplugs made the outfit look like an alien cactus), a dress made of tea bags and coffee filters, a glow-in-the-dark hat shaped into a UFO with aliens coming out of it, and soooooooooo much more! My favorite outfit was a dress made 100% out of wood. It looked old fashioned because the wooden skirt looked like a hoop skirt. It was beautifully crafted.
Along with all the amazing fashions, the museum also has classic cars. We saw all different kinds of cars from the 1910s horseless carriages to a sports car with doors that opened upward that was in Back to the Future. It was amazing!
NEW ADVENTURES IN NEW ZEALAND
I have been having so many adventures, not only in New Zealand but everywhere else I have been to. I am coming up on the halfway point on my trip. This school year is flying by and soon it will be over. I love Piedmont, but I also love traveling. If I never did this trip then I never would've been able to do any of this stuff, and that is definitely why I love traveling.